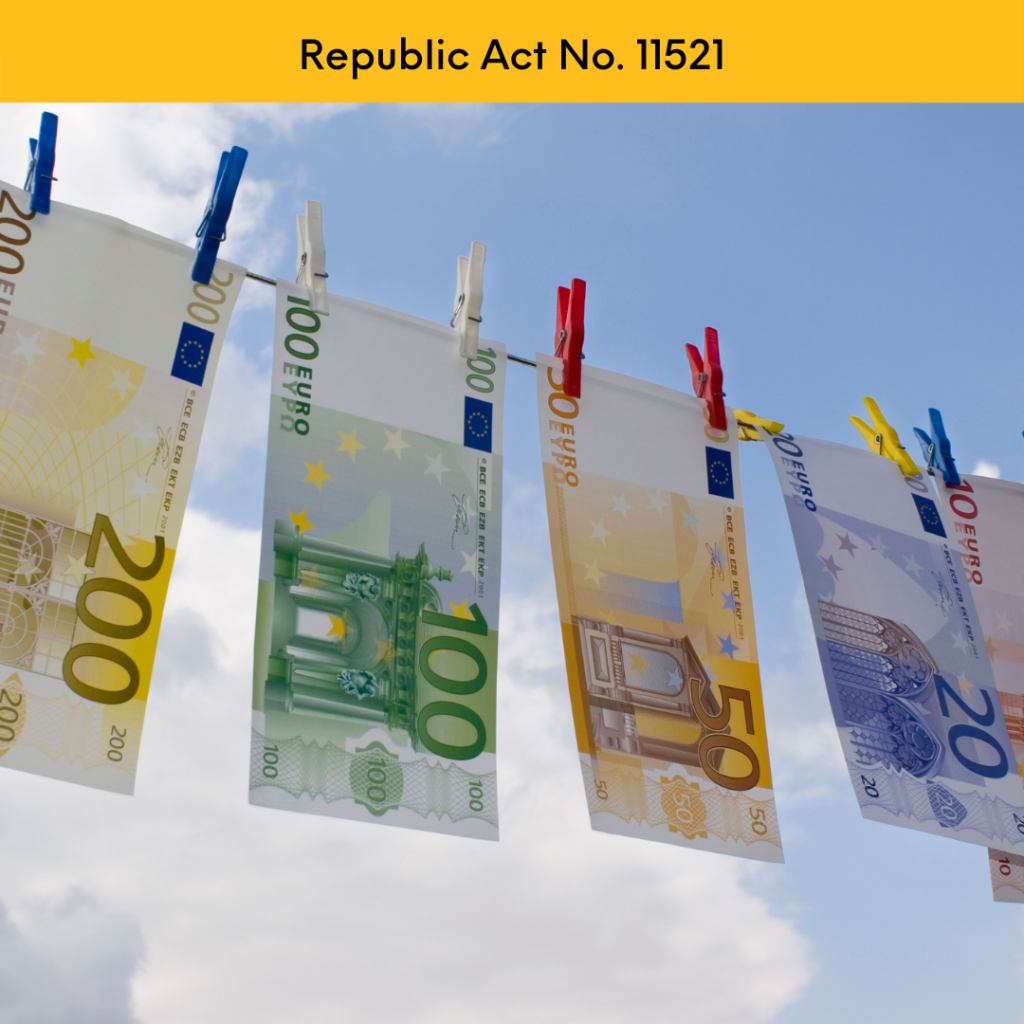 Published 5 February 2021, The Daily Tribune
Money laundering, like corruption and criminality, is a threat to civilized society. Despite being a global problem, a strong local legal system to stop the flow of dirty money into our banking and financial systems has always played a major role in curbing money laundering. As they say, thinking globally and acting locally is key.
Aligned with these, Republic Act 11521 or an act strengthening the Anti Money Laundering Act, was signed into law last 29 January. The newly enacted law recognizes the Philippines' obligation to cooperate in transnational investigations of persons involved in money laundering.
Notable amendments include the expansion of "covered persons" to include real estate developers and brokers. Specifically, a single cash transaction involving an amount in excess of P7.5 million or its equivalent in any other currency must be reported.
Offshore gaming operators and their service providers are also included as covered persons. "Offshore gaming operators" are those engaged in offering online games of chance or sporting events via the Internet using a network and software program, by themselves or through local service providers. Local service providers, on the other hand, are those that provide components of gaming operations to offshore gaming operators.
The list of unlawful activities has also been expanded to include:
— Fraudulent practices under the Securities Regulation Code;
— Violation of Section 19(a)(3) of RA 10697 or the Strategic Trade Management Act (STMA), in relation to the proliferation of mass destruction and its financing pursuant to UN Security Council resolutions;
— Attempt to evade or defeat tax or the payment thereof as provided under Section 254 of the Tax Code, as amended, where the deficiency basic tax due in the final assessment exceeds P25 million per taxable year for each type covered, and there has been a finding of probable cause by competent authority. There must be a finding of fraud, willful misrepresentation or malicious intent on the part of taxpayer. However, the AMLC shall not institute forfeiture proceedings if already recovered or collected by the Bureau of Internal Revenue in another proceeding.
The law also fortifies the powers of the Anti-Money Laundering Council (AMLC), granting it the power to apply for a subpoena ad testificandum and subpoena duces tecum, and a warrant for search and seizure before a competent court. The AMLC is also empowered to impose targeted financial sanctions. It may issue an order to immediately freeze the funds and property in connection with the financing of proliferation of weapons of mass destruction effective for 20 days. Likewise, it has the power to preserve, manage or dispose of assets pursuant to a freeze order, preservation order or judgment of forfeiture. These actions cannot be enjoined except by the Court of Appeals or the Supreme Court.
For the AMLC to effectively discharge its functions, there must be absolute confidentiality in the information surrounding the transactions and covered persons. The law imposes imprisonment of three to eight years and a fine ranging from P500,000 to P1 million for breach of information security and confidentiality under the law.
This recent law has certainly introduced significant amendments in the landscape of anti-money laundering compliance in the country. Let us await and further see how effective these measures are in the fight against money laundering.
Another thing to watch out for is how this new legislation will be carried out in the Implementing Rules and Regulations that the AMLC will come up with to guide the bench, the bar and the general public on the application of these new provisions.
For comments and questions, please send an email to cabdo@divinalaw.com.