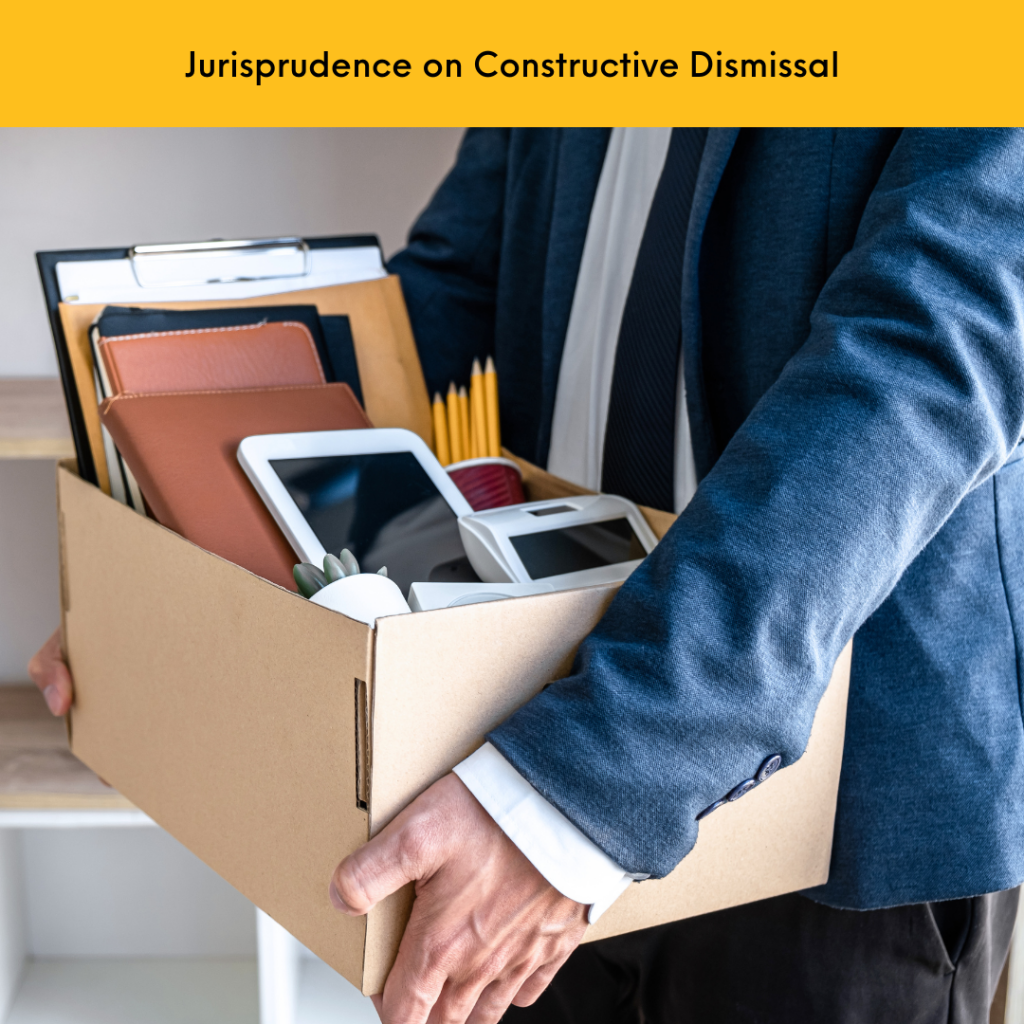 Published 24 July 2023, The Daily Tribune

Constructive dismissal has been defined as a dismissal in disguise, or an act amounting to dismissal but is made to appear as if it was not. More specifically, it is when an employee quits work because continued employment is rendered impossible, unreasonable, or unlikely, or when there is a demotion in rank or a diminution in pay and other benefits. (Dimagan v. Dacworks United, Inc., G.R. 191053, 28 November 2011).
The test of constructive dismissal is whether a reasonable person in the employee's position would have felt compelled to give up his or her employment under the circumstances (St. Paul College, Pasig v. Mancol, G.R. No. 222317, 24 January 2018).
Here are some examples of acts that constitute constructive dismissal: In one case, an employee who was hired as a bookkeeper in a company engaged in the real estate business was held to be constructively dismissed when she was deprived of office space, was not given further work assignments, and was not paid her salaries until she was left with no choice but to stop reporting for work (Tan Brothers Corp. of Basilan City v. Escudero, G.R. 188711, 3 July 2013).
In another case, an employee who was hired as a waiter in a hotel company was held to be constructively dismissed when his regular work days were reduced from five days to two days. The change in his work schedule thus resulted in the diminution of his take-home salary. The fact that he may have continued to report for work does not rule out constructive dismissal, nor does it operate as a waiver. (Regala v. Manila Hotel Corp., G.R. 204684, 5 October 2020).
The Supreme Court explained that "constructive dismissal occurs not when the employee ceases to report for work, but when the unwarranted acts of the employer are committed to the end that the employee's continued employment shall become so intolerable. In these difficult times, an employee may be left with no choice but to continue with his employment despite abuses committed against him by the employer, and even during the pendency of a labor dispute between them." (The Orchard Golf and Country Club v. Francisco, G.R. 178125, 18 March 2013).
In another case, a managerial employee was instructed to perform functions that were below her position. When she assigned another person to do the said functions and suggested a different procedure to her boss, the latter reacted negatively and told her she was stupid and incompetent. She was also asked to resign on more than one occasion but was later told to stay. After she was assured that she could keep her job, she was treated indifferently by the management. The Supreme Court held that acts of disdain and hostile behavior such as demotion, uttering insulting words, asking for resignation, and apathetic conduct towards an employee are tantamount to constructive dismissal. (Bayview Management Consultants Inc. v. Pre, G.R. 220170, 19 August 2020).
In another instance, an employee became the subject of constructive dismissal in the guise of a transfer. She was initially promoted to the position of Chief Operating Officer in one of the employer's branches. However, two months after her promotion, she was appointed instead as Compliance Manager, and her position of COO was declared abolished when the management decided to undertake an "organizational restructuring." It appears, however, that the said position was actually never abolished as another employee was appointed to take her place. The appointment was even publicly announced via an official communication disseminated company-wide.
The Supreme Court held that when another employee is soon after appointed to a position that the employer claims to have been abolished, while the employee who had to vacate the same is transferred against her will to a position that does not exist in the corporate structure, there is evidently a case of illegal constructive dismissal. (Ico v. Systems Technology Institute, Inc., G.R. 185100, 9 July 2014).
An employee who is constructively dismissed is entitled to two reliefs, namely, back wages and reinstatement. However, where reinstatement is no longer feasible, the employee shall be granted separation pay in lieu of reinstatement (Cornworld Breeding Systems Corp. v. Court of Appeals, G.R. 204075, 17 August 2022).
For more of Dean Nilo Divina's legal tidbits, please visit www.divinalaw.com. For comments and questions, please send an email to cabdo@divinalaw.com.