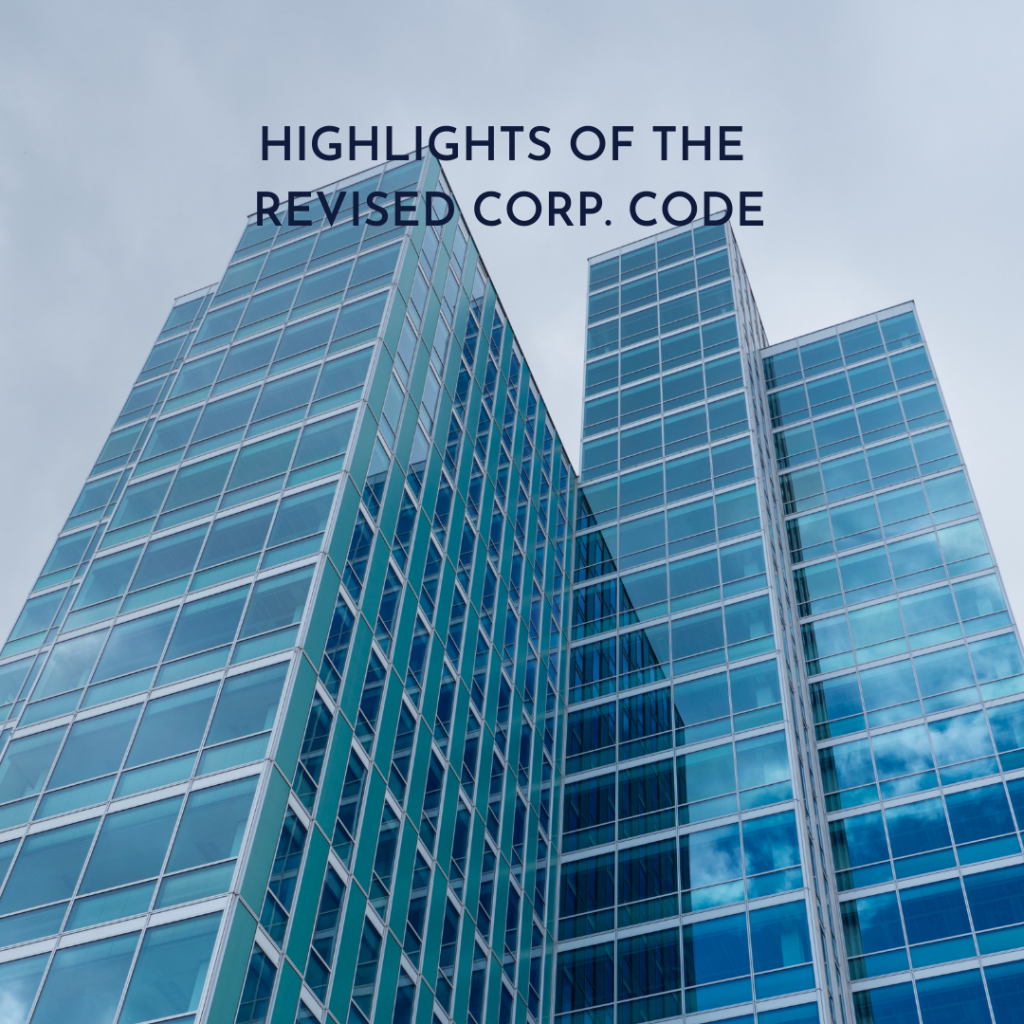 Published 25 March 2019, The Daily Tribune
We are now on the third of a five-part series on the highlights of the Revised Corporation Code.
F. CORPORATE POWERS
• Domestic corporations may donate to political party or candidate but foreign corporations cannot.
G. BYLAWS
1. Contents of Bylaws.
• Mode of notifying the stockholders or members about regular or special meetings.
This means that electronic communication may now be permitted if such mode of notice is allowed by the bylaws.
• Modes by which a stockholder, member, director or trustee may attend meetings and cast their votes.
This means that stockholders' meeting may now be conducted through tele-conference and video conference and similar means, if allowed by the bylaws except for corporations vested with public interest which may do so even though the bylaws are silent on such mode of attendance or participation.
• Maximum number of other board representations that an independent director or trustee may have which shall not be more than the SEC (Securities and Exchange Commission) may prescribe.
• Promotion of good governance and anti-graft and corruption measures.
• Arbitration agreement.
H. MEETINGS
1. Regular and Special Meetings of Stockholders or Members.
• Regular stockholders' meeting shall be held on the date fixed in the bylaws or on any date after 15 April of every year if bylaws are silent.
• Written notice of regular meetings should be sent at least 21 days prior to the meeting.
• General waivers of lack of notice void.
• Stock and transfer book or membership book shall be closed before the scheduled date of the meeting at least: UNLESS OTHERWISE PROVIDED IN THE BYLAWS.
o 20 days for regular meetings
o 7 days for special meetings
• Postponement of stockholders' or members' regular meetings.
o Written notice shall be sent to all stockholders or members of record at least two weeks prior to the date of the meeting, unless a different period is required under the bylaws, law or regulation.
• Right to vote of stockholders or members may be exercised in person, through a proxy, or, through remote communication or in absentia.
1. Place and Time of Meetings of Stockholders or Members.
• Stockholders meetings should be held in the principal office of the corporation and, if not practicable, in the city or municipality where the principal office is located.
• Metro Cebu, Metro Davao and other Metropolitan areas considered city or municipality.
2. Regular and Special Meetings of Directors or Trustees; Quorum.
• Notice of the board meeting shall be sent to the directors/trustees at least two days prior to the meeting.
• Directors or trustees who cannot physically attend or vote at board meetings can participate and vote through remote communication, if allowed by the bylaws.
• Director or trustee who has a potential interest in any related party transaction must recuse from voting on the approval of the related party transaction.
I. SHARES OF STOCK/STOCK CERTIFICATES
1. Consideration for Stocks.
• Consideration for the issuance of stock now includes shares of stock in another corporation and other generally accepted form of consideration.
• Stockholders can participate in the determination of valuation of a consideration other than cash but subject to SEC approval.
2. Certificate of Stock and Transfer of Shares.
• SEC may require corporations whose securities are traded in trading markets and which can reasonably demonstrate their capability to do so to issue their securities or shares of stocks in uncertificated or scripless form in accordance with the rules of the SEC.
J. RIGHT OF INSPECTION
• The inspecting or reproducing party shall remain bound by confidentiality rules under prevailing laws.
• A requesting party who is not a stockholder or member of record, or is a competitor, director, officer, controlling stockholder or otherwise represents the interests of a competitor shall have no right to inspect or demand reproduction of corporate records.
• Remedy for denial of the right to inspect/reproduce.
o Report to SEC
o Within five days from receipt of the report, SEC shall conduct summary investigation and, if warranted, may order directing the inspection or reproduction.
For comments and questions, please send an email to cabdo@divinalaw.com.