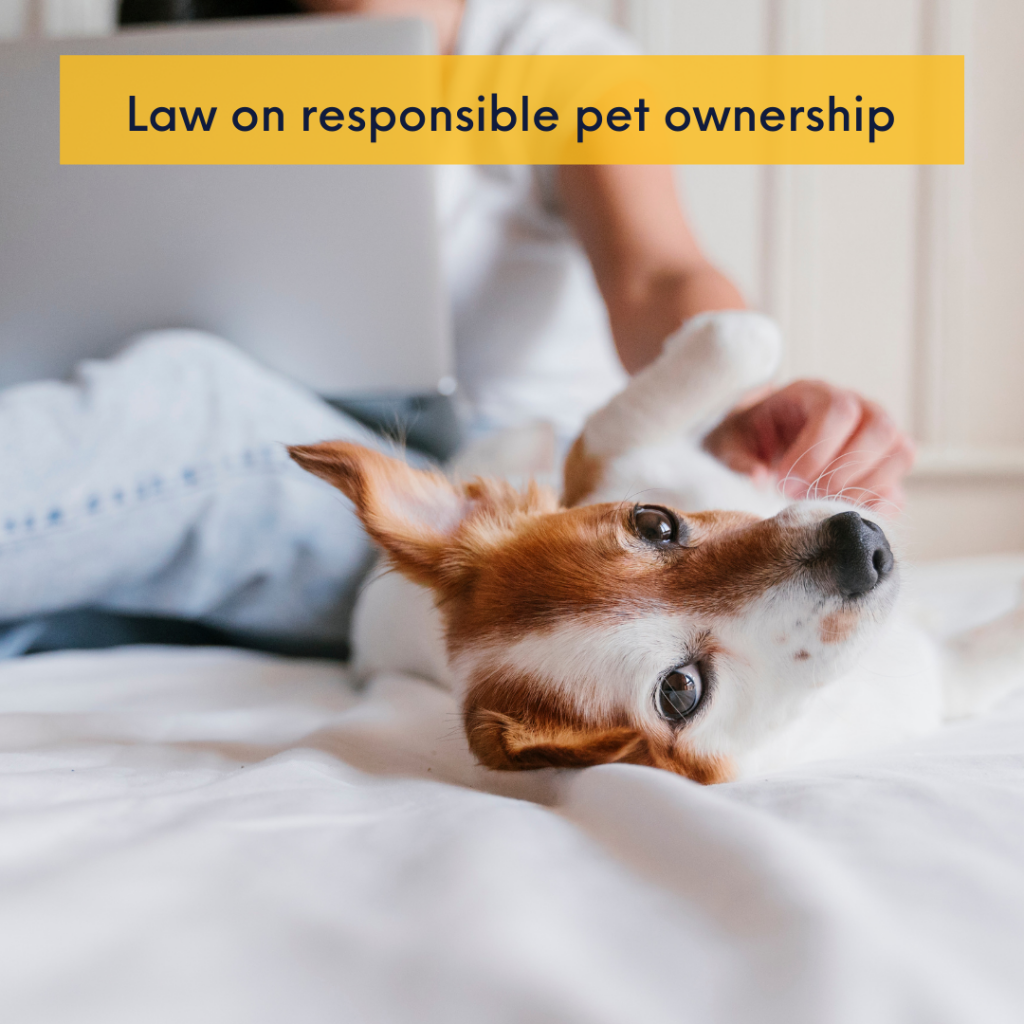 Published 12 October 2020, The Daily Tribune
Over recent years, the world has witnessed an uproar of campaigns to promote responsible pet ownership. This notwithstanding, cruelty and neglect are still part of the reality for many pet animals seemingly on account of a lack of understanding as to what makes a responsible pet owner. Under the law, a responsible pet owner, or what some people refer to as a "pet parent," has two main responsibilities. First, pet owners are mandated to provide their pets adequate care and sustenance. Second, pet owners are vicariously liable for the damage and harm caused by their pets. Key to being a responsible pet owner is to be mindful of these concepts, especially because the cruel treatment of animals is punished as an offense.
The Animal Welfare Act of 1998 makes it unlawful for any person "to torture any animal, to neglect to provide adequate care, sustenance or shelter, or maltreat any animal or to subject any dog or horse to dogfights or horse fights, kill or cause or procure to be tortured or deprived of adequate care, sustenance or shelter, or maltreat or use the same in research or experiments not expressly authorized by the Committee on Animal Welfare." The protection of the law is extended to all animals, either as objects of trade or as household pets. The law does not only involve pet owners; the same statute also covers operators or owners of facilities housing and transporting animals. The law penalizes any person that maltreats animals, may it be their pet or not.
Furthermore, Section 5 of The Anti-Rabies Act of 2007 requires all pet owners to: "(a) have their dog regularly vaccinated against rabies and maintain a registration card which shall contain all vaccinations conducted on their dog, for accurate record purposes; (b) submit their dogs for mandatory registration (c) maintain control over their dog and not allow it to roam the streets or any public place without a leash; (d) be a responsible owner by providing their dog with proper grooming, adequate food and clean shelter; (e) within 24 hours, report immediately any dog biting incident to the concerned officials for investigation or for any appropriate action and place such dog under observation by a government or private veterinarian; and (f) assist the dog bite victim immediately and shoulder the medical expenses incurred and other incidental expenses relative to the victim's injuries."
In the same statute, the responsibilities of other sectors, like local government units and pertinent government agencies, have been streamlined to facilitate efforts to lessen the incident of rabies and to promote responsible pet ownership in the country. The law likewise imposes penalties on pet owners who fail to fulfill their responsibilities. This reminds us not only of our communal responsibility of ensuring the safety and welfare of both people and animals, but also of the dangers when pet owners fail to do their part.
While it is unlikely that pet parents will be made criminally liable for the injurious acts of their pets because settled in jurisprudence is that criminal liability is personal (De Jesus vs Court of Appeals, GR 101630, 24 August 1992), they can still be made liable for damages on the basis of quasi-delict. This is in line with what is expressed in Article 2183 of the Civil Code where the possessor of an animal is responsible for the damage which it may cause, although it may escape or be lost. The same provision also states that this responsibility only ceases when the damage should come from force majeure or when the person who has suffered damage is at fault.
What can be gained from a reading of these pertinent laws is that pet ownership should not be taken lightly. There are duties that come with being a pet parent that goes beyond feeding pet animals every day and placing a roof above their heads. Immanuel Kant once said that a heart of a man can be judged by how he treats animals. The same still rings true today.
For comments and questions, please send an email to cabdo@divinalaw.com.