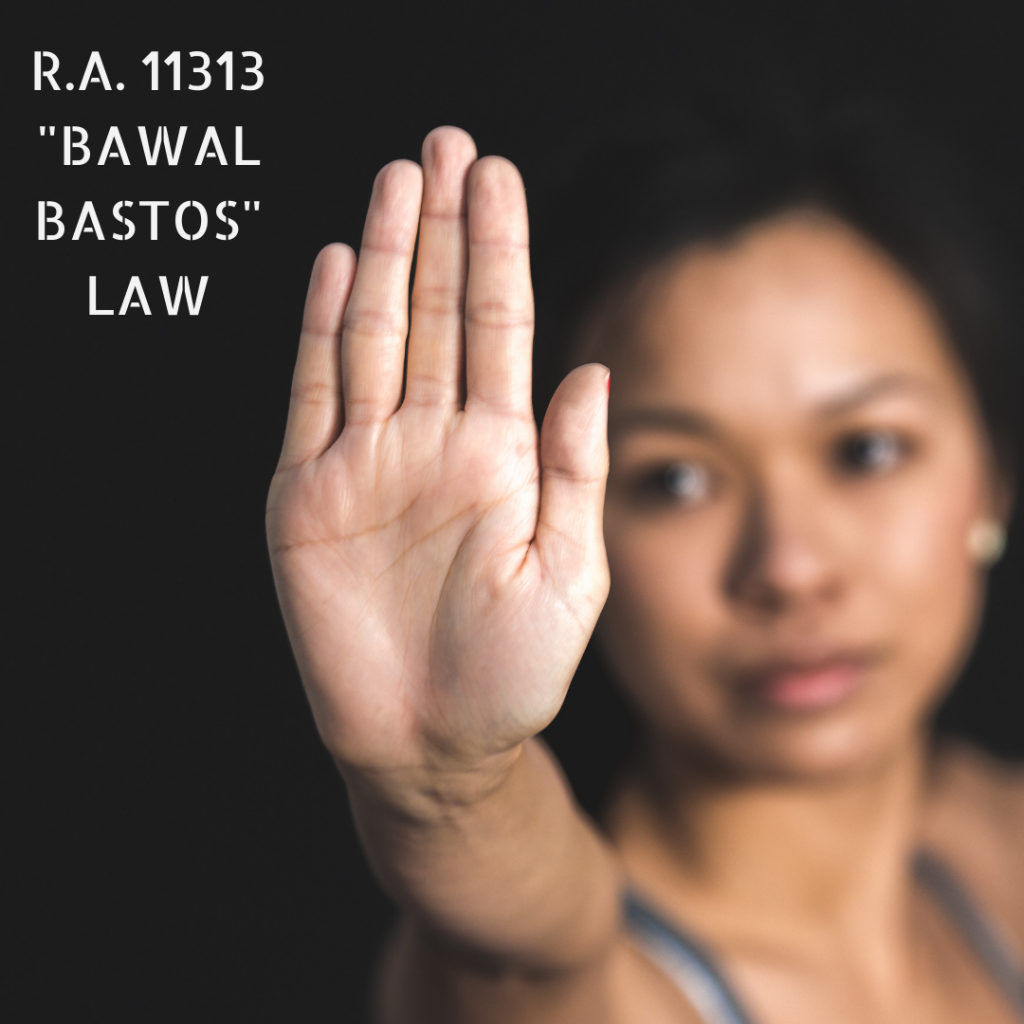 Published 25 November 2019, The Daily Tribune
There is a dearth of data on the incidence of sexual harassment in the Philippines, not just because of an inadequate legal framework that used to address it, but also because the incidents are often unreported.
In a 2016 survey by the Social Weather Stations, it was found that eight out of 10 young women aged 18-24 have experienced sexual harassment at least once in their lifetime.
According to the Philippine Commission on Women (PCW), "Two in five women, that is 41 percent, aged 15 to 49 have never sought help to end violence nor told anyone about violence. One in four told someone about violence but did not seek help."
Republic Act 11313 seeks to change this situation.
In Part 1 of this column, we mentioned that the new law also punishes gender-based sexual harassment in "streets and public spaces." These acts may include:
• Cursing, wolf-whistling, catcalling, leering and intrusive gazing, taunting, unwanted invitations, misogynistic, transphobic, homophobic, and sexist slurs, persistent unwanted comments on one's appearance, relentless requests for one's personal details such as name, contact and social media details or destination, the use of words, gestures or actions that ridicule on the basis of sex, gender or sexual orientation, identity and/or expression including sexist, homophobic, and transphobic statements and slurs, the persistent telling of sexual jokes, use of sexual names, comments and demands, and any statement that has made an invasion on a person's personal space or threatens the person's sense of personal safety; and
• Making offensive body gestures at someone, exposing private parts for the sexual gratification of the perpetrator with the effect of demeaning, harassing, threatening or intimidating the offended party including flashing of private parts, public masturbation, groping, and similar lewd sexual actions.
The specificity by which the prohibited acts are mentioned in the new law will certainly help delineate what constitutes acceptable conduct. Considering that ignorance of the law excuses no one, a perpetrator, for instance, may no longer claim that his intrusive gaze whenever a female neighbor passes by is an innocent act.
To provide more teeth, additional measures under the law include a requirement upon restaurants, bars, cinemas, malls, buildings and other privately-owned places open to the public to provide assistance to victims of gender-based sexual harassment by coordinating with local police authorities immediately after harassment is reported.
They are also supposed to make closed-circuit television footage available when ordered by the court; put up clearly-visible warning signs against gender-based public spaces sexual harassment, including the anti-sexual harassment hotline number in bold letters; and designate at least one anti-sexual harassment officer to receive gender-based sexual harassment complaints.
Security guards in these places may be deputized to apprehend perpetrators caught in flagrante delicto and are required to immediately coordinate with local authorities.
As regards public utility vehicles, the Land Transportation Office may cancel the license of perpetrators found to have committed acts constituting sexual harassment, and the Land Transportation Franchising and Regulatory Board may suspend or revoke the franchise of transportation operators who commit gender-based streets and public spaces sexual harassment acts.
If here the perpetrator is the driver of the vehicle, the act shall also constitute a breach of contract of carriage for the purpose of creating a presumption of negligence on the part of the owner or operator of the vehicle in the selection and supervision of employees. This renders the owner or operator solidarily liable for the offenses of the employee.
Another phenomenon addressed by the law is Gender-Based Online Sexual Harassment. This includes acts that use information and communications technology in terrorizing and intimidating victims through physical, psychological, and emotional threats, unwanted sexual misogynistic, transphobic, homophobic and sexist remarks and comments online whether publicly or through direct and private messages, invasion of victim's privacy through cyberstalking and incessant messaging, uploading and sharing without the consent of the victim, any form of media that contains photos, voice, or video with sexual content, any unauthorized recording and sharing of any of the victim's photos, videos, or any information online, impersonating identities of victims online or posting lies about victims to harm their reputation, or filing false abuse reports to online platforms to silence victims.
The reason why many of the foregoing incidents go unreported is the victim may experience stigma or embarrassment. RA 11313 tackles this by providing strict confidentiality at any stage of the investigation, prosecution, and trial.
The victim is also protected from possible retaliation or further harassment as the criminal courts may issue restraining orders while the case is pending. Said order may direct the perpetrator to stay away from the victim at a distance specified by the court, or to stay away from the residence, school, place of employment, or any specified place frequented by the victim.
The local government unit and the Department of Social Welfare and Development, in coordination with the Department of Health and the PCW, shall also make available psychological counselling services to the victim with the expenses to be borne by the perpetrator.
Indeed, the law which is aptly referred to as "Bawal Bastos" law, is set to be a game changer.
For comments and questions, please send an email to cabdo@divinalaw.com.