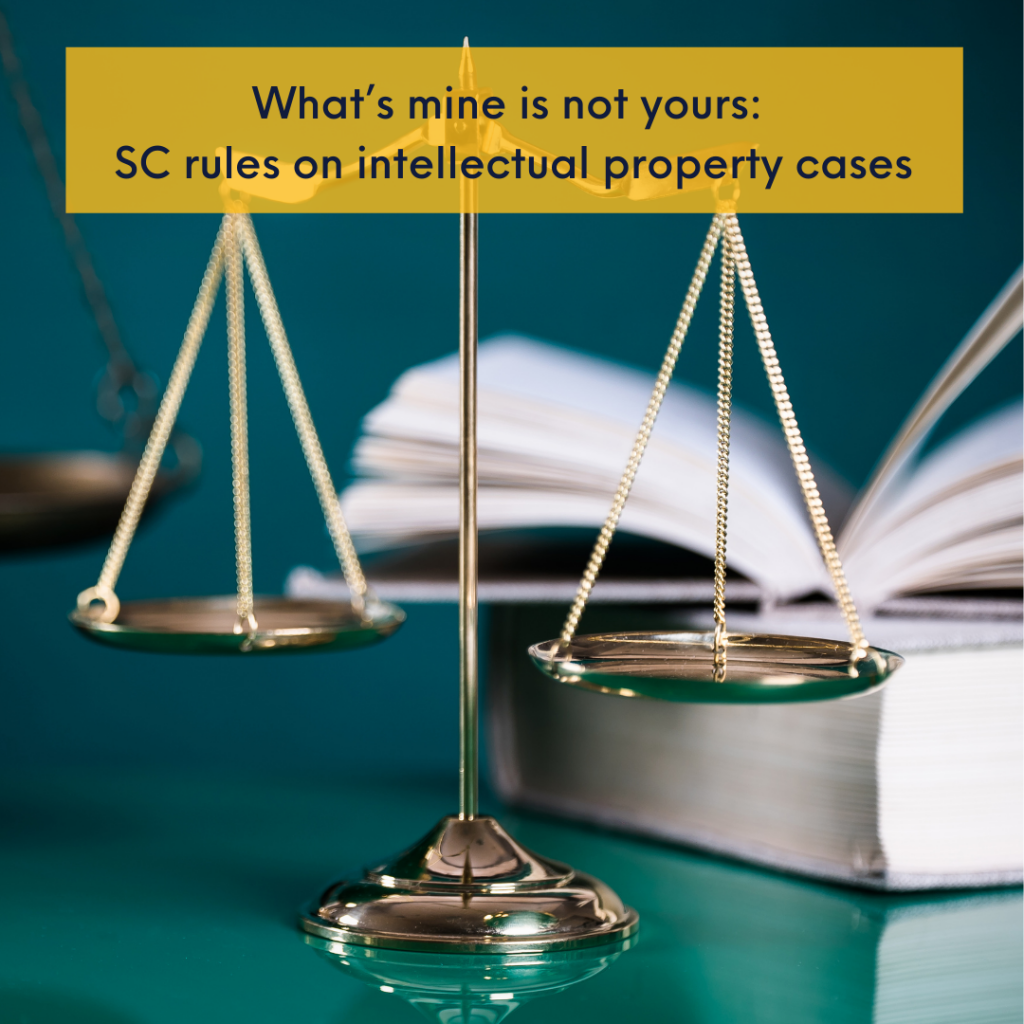 Published 11 December 2020, The Daily Tribune
An effective intellectual property (IP) system is vital to economic development. A strong system fosters the transfer of technology, attracts foreign investment, creates domestic economic activity and ensures market access for our products. But in an age when counterfeiting and other IP violations seem unstoppable due to sheer volume and prevalence, can intellectual property owners really enforce their rights?
Although daunting, the creation of a strong legal and judicial system equipped to handle IP cases is a good place to start.
Aiming to be part of the solution, the Supreme Court recently came out with A.M. No. 10-3-10-SC or the 2020 Revised Rules of Procedure for Intellectual Property Rights Cases ("IPR Rules") which became effective on 16 November 2020.
The IPR Rules apply to civil cases involving violations of the Intellectual Property Code (IPC), as amended, including Repetition of Infringement of Patent, Utility Model and Industrial Design and Layout of Integrated Circuits, Trademark, Unfair Competition, False Designations of Origin, False Description or Representation, infringement of copyright, moral rights, performers' rights, producers' rights and broadcasting rights, as well as other violations of IPR as may be defined by law.
Most of the recent revisions to the Code of Civil Procedure were integrated into the IPR Rules, such as requiring the submission of evidence and Judicial Affidavits along with the initiatory Complaint and the Answer, and the rules on substituted service of summons and extraterritorial service of summons.
Another relevant update is the designation of Special Commercial Courts in the City of Manila, Quezon City, Makati City, Pasig City, Baguio City, Iloilo City, Cebu City, Cagayan de Oro City and Davao City to act on applications for the issuance of writ of search and seizure in civil actions for violations for the above-cited violations of the IPC. Such writs shall be enforceable nationwide and not just in the territorial jurisdiction of the issuing court. In issuing the writ, the judges shall be guided by the rules prescribed in Re: Rule on Search and Seizure in Civil Actions for Infringement of Intellectual Property Rights (A.M. No. 02-1-06-SC). Within their respective territorial jurisdictions, the Special Commercial Courts in the judicial regions where the violation of intellectual property rights occurred shall have concurrent jurisdiction to issue writs of search and seizure.
Some of the salient provisions of the Revised Guidelines for Continuous Trial of Criminal Cases were adopted for criminal cases such as patent infringement; unfair competition; and violation of Republic Act (RA) 10175 or the Cybercrime Prevention Act of 2012, RA 8203 or the Special Law on Counterfeit Drugs or RA 10088 or the Anti-Camcording Act of 2010 which involves intellectual property rights and other violations of intellectual property rights as may be defined by law. These include similar grounds for prohibited motions, strict rules on postponement timeline for trial and proceedings, among others, all to ensure that criminal cases are commenced and tried quickly and efficiently.
The IPR Rules is also groundbreaking for defining, for the first time, what shall be accepted as proof of actual use of a mark in trademark infringement and unfair competition cases, such as: labels of the mark, downloaded pages from the website of the applicant or registrant, photographs, including digital photographs printed on ordinary paper, brochures or advertising material, receipts of sale of the goods or services, copies of contracts for services showing the use of the mark, computer printouts of the drawing reproduction of marks and such other proofs that the court may deem acceptable. With these rules to guide litigants and ensure a speedier, more organized disposition of IP cases, it is hoped that the rights of creators and IP owners will be duly protected and vindicated, particularly when beneficial to the country and its economy.
For comments and questions, please send an email to cabdo@divinalaw.com.