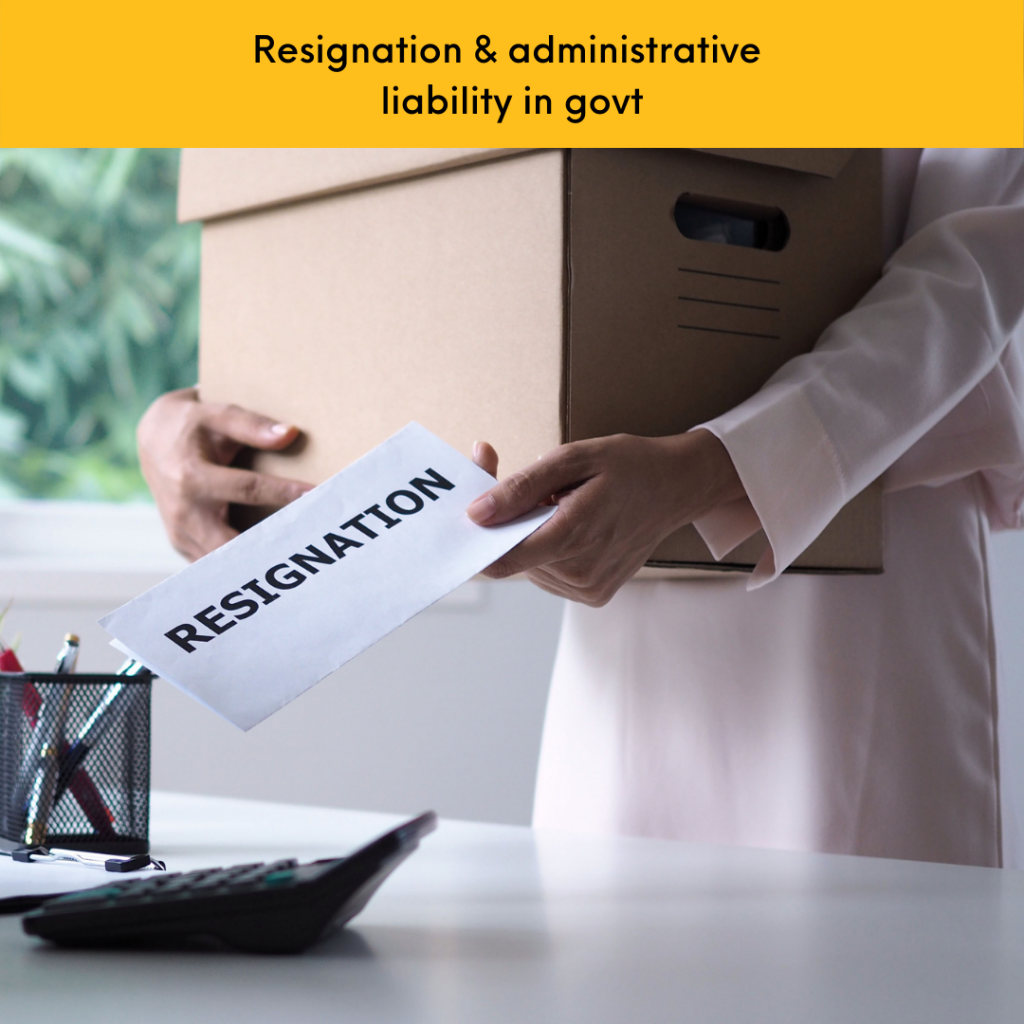 Published 22 March 2021, The Daily Tribune
We focus in this article on rules governing resignation pending administrative cases filed against a government employee, in consideration of the fact that a separate set of rules govern this class of employees. Unlike workers in the private sector, government employees are governed by the Civil Service Law, rules promulgated by the Civil Service Commission, and relevant legislations specifically for public officials and employees.
Republic Act 6713 the Code of Conduct and Ethical Standards for Public Officials and Employees provides an explanation for why. Indeed, public officials and employees are at all times accountable to the people. Hence, they are expected to discharge their duties with utmost responsibility, integrity, competence, and loyalty, act with patriotism and justice, lead modest lives, and uphold public interest over personal interest. It is not difficult to see why more stringent rules apply to them.
In particular, the issue of resignation pending an administrative case may be different from those in private sector. In the latter, an employee whose resignation becomes effective pending disciplinary proceedings may freely go. Perhaps employer may hold a part of his terminal or separation pay to answer for accountabilities, or hold the issuance of a clearance certificate during the pendency of such proceedings, but he is not precluded from pursuing employment elsewhere. An employer is allowed to withhold terminal pay and benefits pending the employee's return of its properties. However, the withholding of payment by the employer does not mean that the employer may renege on its obligation to pay employees their wages, termination payments, and due benefits; it is only subjected to the condition that the employees return properties properly belonging to the employer. This is only consistent with the equitable principle that "no one shall be unjustly enriched or benefited at the expense of another" (Milan vs. NLRC, G.R. No. 202961, February 04, 2015).
On the other hand, a government employee who has been separated from service, whether by voluntary resignation or by operation of law, can still be administratively charged.
To illustrate, in the case of Pagano vs. Nazarro (G.R. No. 149072, September 21, 2007), petitioner challenged the ruling that she may still be held administratively liable for dishonesty, grave misconduct and malversation of public funds through falsification of official documents in her previous capacity as a cashier at the Office of the Provincial Treasurer of Benguet. Pending proceedings, she filed her Certificate of Candidacy for the position of Councilor in Baguio City. She opined that being deemed ipso facto resigned from her position as a cashier, administrative proceedings against her should already be terminated.
However, the precipitate resignation of a government employee charged with an offense punishable by dismissal from the service does not render moot the administrative case against him. Resignation is not a way out to evade administrative liability when facing administrative sanction. The resignation of a public servant does not preclude the finding of any administrative liability to which he or she shall still be answerable (Baquerfo v. Sanchez, A.M. No. P-05-1974, 6 April 2005).
As explained by the Supreme Court, even if the most severe of administrative sanctions – that of separation from service – may no longer be imposed on the petitioner, there are other penalties which may be imposed on her if she is later found guilty of administrative offenses charged against her, namely, the disqualification to hold any government office and the forfeiture of benefits. The jurisdiction at the time of the filing of the administrative complaint was not lost by the mere fact that the petitioner had ceased in office during the pendency of the case.
There is also no ruling supporting the dismissal of the administrative case filed against herein petitioner simply because she had filed her certificate of candidacy. The act of filing a Certificate of Candidacy while one is employed in the civil service constitutes a just cause for termination of employment for appointive officials. The Omnibus Election Code, in considering an appointive official ipso facto resigned, merely provides for the immediate implementation of the penalty for the prohibited act of engaging in partisan political activity. This provision was not intended, and should not be used, as a defense against an administrative case for acts committed during government service.
Still on the issue, it must be noted that the Supreme Court has deemed an employee's act of tendering his or her resignation immediately after the discovery of the anomalous transaction as indicative of his or her guilt as flight in criminal cases. Resignation should be used neither as an escape nor as an easy way out to evade administrative liability by a court personnel facing administrative sanction (Re: (1) Lost Checks Issued to the Late Roderick Roy P. Melliza, Former Clerk II, MCTC, Zaragga, Iloilo and (2) Dropping from the Rolls of Ms. Esther T. Andres, A.M. No. 2005-26-SC, November 22, 2006).
For comments and questions, please send an email to cabdo@divinalaw.com.