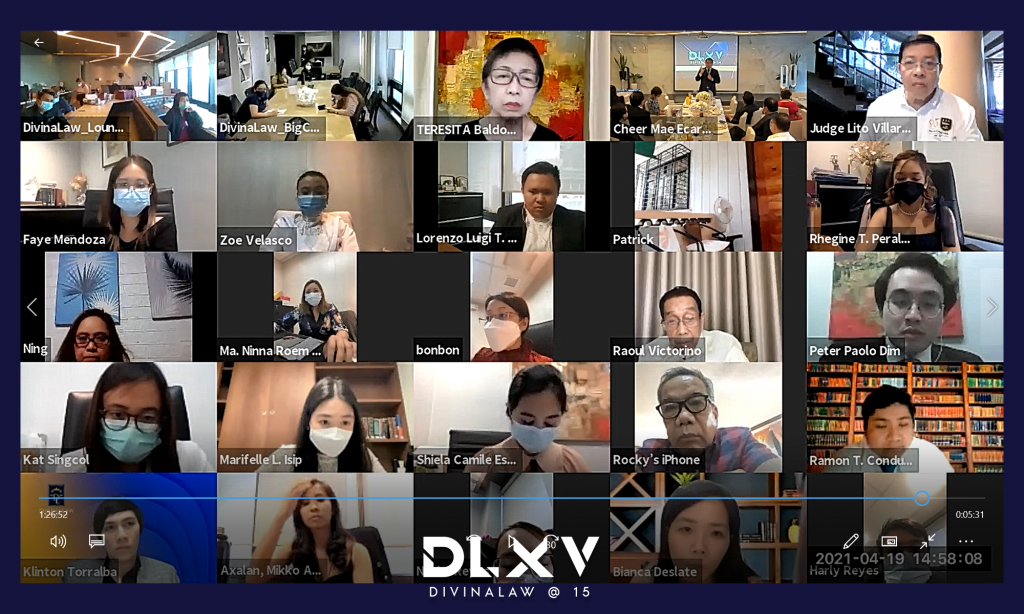 "We have accomplished our goal of 80 lawyers on our 15th anniversary. From five staff, to 58 staff. From 200 sqm, we now occupy the whole floor and still expanding to another floor. From four clients to over 400 clients. From 80 cases to more than 2,000 cases." This was Managing Partner Nilo T. Divina's message to his DivinaLaw family, referring to Firm's milestones over the years.
With the theme "DLXV: A Vision, Crystallized," DivinaLaw celebrated its 15th anniversary last April 19. The Firm celebrated this special occasion in true pandemic style—a limited number of lawyers and staff were present, while the rest joined remotely via Zoom in their respective work stations and homes.
"No one should be left behind. That's one way of promoting more love, unity, and affection among the members of the Firm," said Atty. Divina, emphasizing the importance of caring for one another as one of the keys to the Firm's success. As a fitting and timely accolade, DivinaLaw was recently named as 2021 Employer of Choice by the Asian Legal Business.