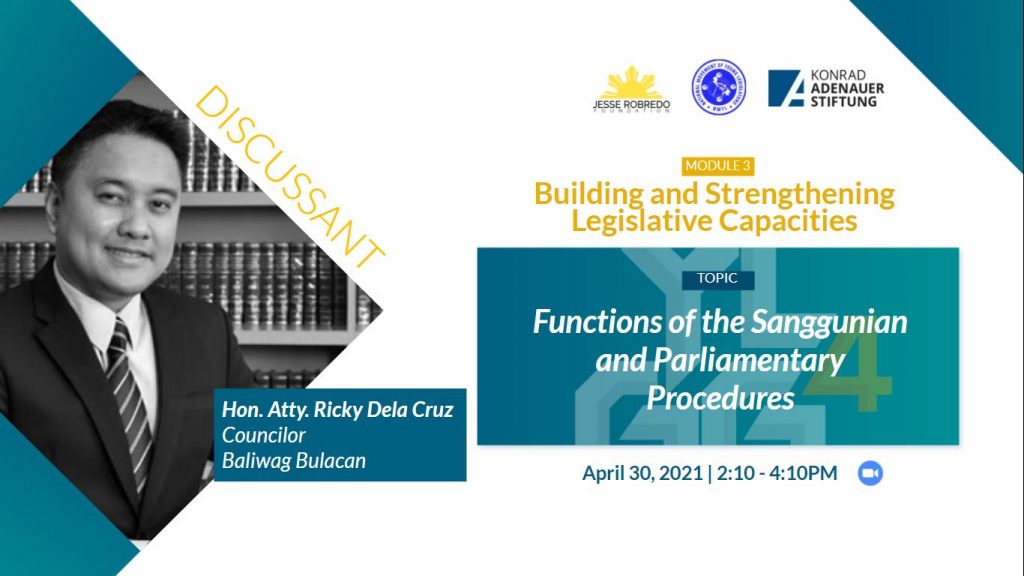 April 30, 2021
DivinaLaw Senior Partner Atty. Enrique V. Dela Cruz Jr. discussed the "Functions of the Sanggunian and Parliamentary Procedures" as part of the module on "Building Legislative Capacities" under the Young Leaders for Good Governance Fellowship Program (YLGG 4). YLGG 4 is a nine-month virtual training program on developing evidence-based health policies for local legislators.
During the online session, Atty. Dela Cruz detailed the fundamentals on local legislation including the Internal, Oversight, and Budgeting Functions of legislative councils.
Atty. Dela Cruz is the incumbent councilor for the municipality of Baliwag, Bulacan. He was formerly president of the National Movement of Young Legislators (NMYL). He is the head of DivinaLaw's Arbitration, Data Privacy, Intellectual Property, and FinTech groups.
YLGG 4 is organized by the Jesse M. Robredo Foundation in partnership with NMYL and Konrad Adenauer Stiftung Philippines, a foundation committed to the promotion of democracy, the rule of law, and a social market economy.