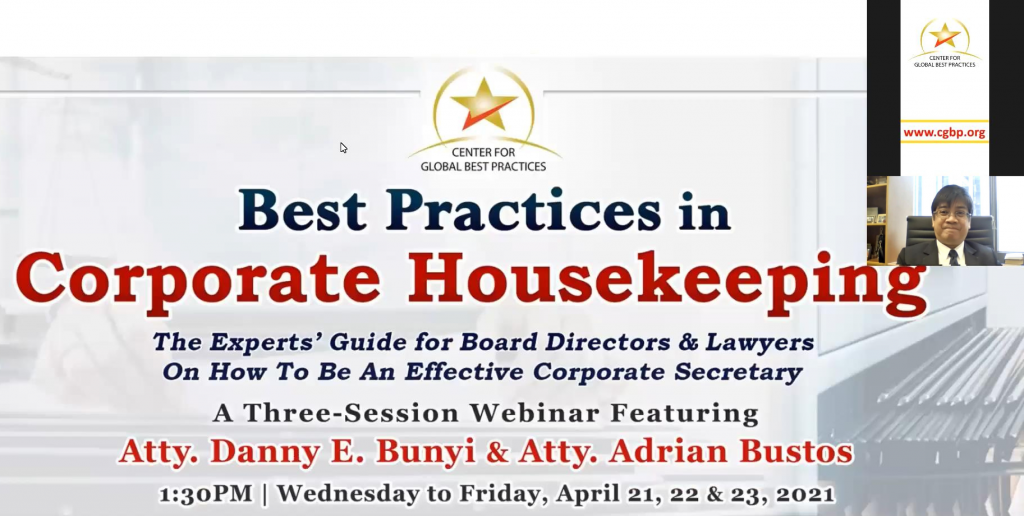 April 23, 2021
DivinaLaw Senior Partner Atty. Danny E. Bunyi shared valuable tips in the recently concluded three-day training on "Best Practices in Corporate Housekeeping" organized by the Center for Global Best Practices. Held online from April 21 to April 23, the training covered the range of services performed by a corporate secretary collectively called "corporate housekeeping services" which includes compliance by a corporate secretary with the provisions of the Revised Corporation Code, SEC and PSE regulations, SEC Code of Corporate Governance, as well as the drafting of an agenda, minutes of meetings, secretary's certificates, and proper interaction with the Board and management.
Items such as the recent SEC regulations on holding of meetings via remote communication, declaration of beneficial ownership and trust arrangements were likewise discussed. Tips on handling contracting drafting and contract negotiations were added to the presentations.
The Center for Global Best Practices Foundation Inc. is a non-profit institution that advocates enhancing the global competitiveness of individuals and organizations across various industries through best practices initiatives.
Atty. Bunyi is a seasoned corporate and banking lawyer with nearly 30 years of experience and is the head of DivinaLaw's Corporate and Special Services Group. He is currently the corporate secretary of several listed and well-known private companies in the Philippines.
He is a Certified Compliance Officer by the American Academy of Financial Management and is currently a part-time lecturer of the Ateneo de Manila University-John Gokongwei School of Management and a lecturer of the Trust Foundation Institute of the Philippines.