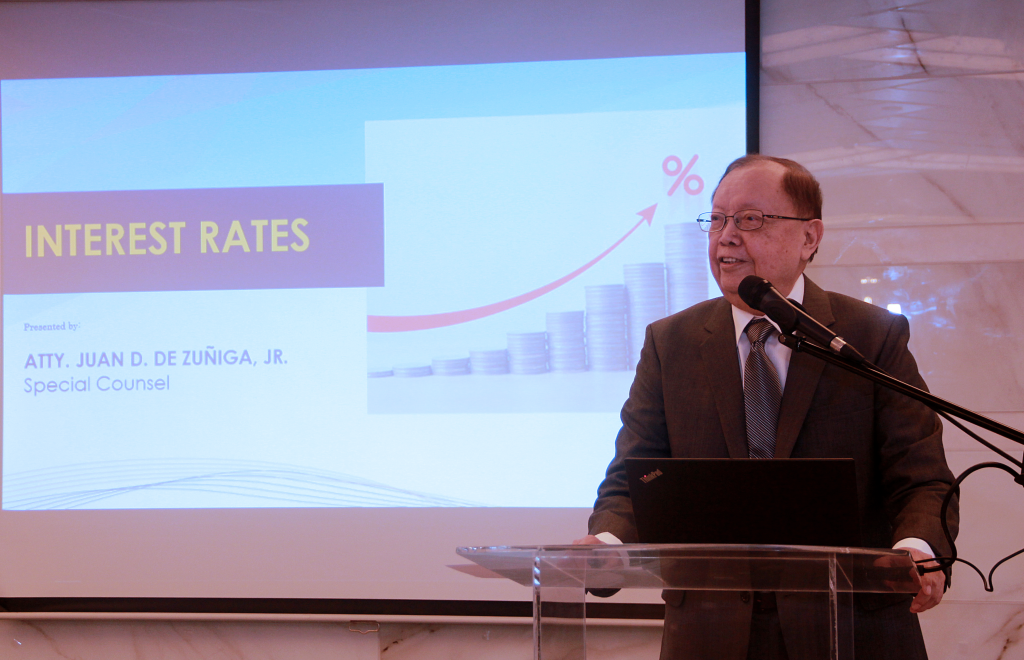 9 February 2021
DivinaLaw's Banking and Finance Learning Series ended with a discussion on Interest Rates featuring Special Counsel Atty. Juan De Zuñiga, Jr., former Monetary Board member and former deputy governor and general counsel of the Bangko Sentral ng Pilipinas.
The governing law on interest rate – the Usury Law (Act No. 2655) was enacted in 1916 and is still in effect today, although some provisions have been suspended. It is described by De Zuniga as one of the earliest consumer protection laws in the country.
"Its rationale is to protect those who, in financial desperation, would agree to pay exorbitant interest rates, and to punish unscrupulous creditors who would take advantage of their plight," said De Zuniga.
De Zuniga shared the amendments to the Usury Law over the years and related jurisprudence which clarified under what conditions the law will apply, and discussed market rates.
While many find attractive deals such as home appliances with low monthly installment fees, De Zuniga noted that some consumers are not aware of the possible consequences if they are late on their payments. His suggestion?
"Each consumer should have financial discipline and be able to provide for contingencies, for savings, if he is unable to afford the monthly installments he obliged himself to pay."
DivinaLaw's Banking and Finance Learning Series featuring Atty. De Zuñiga is exclusive to the Firm's lawyers and clients. The series which began last year covered the topics of Deposit Secrecy, Legal Aspects of Banking, Investment Instruments (Fund Management), Financial Intermediaries, and Basic Principles of Anti-Money Laundering.