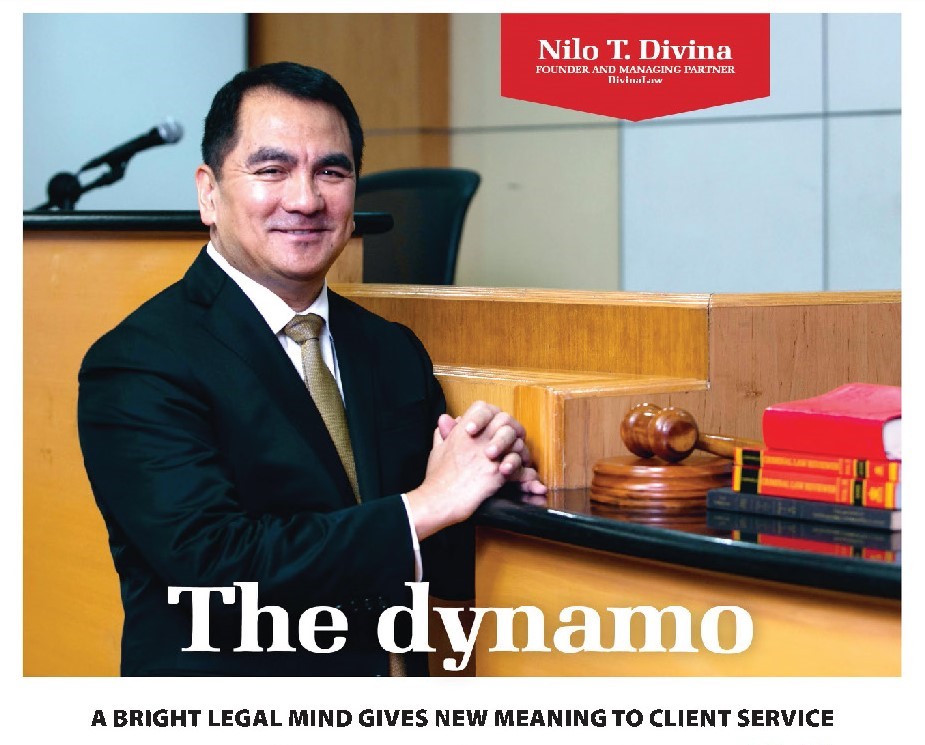 By Margie O. Logarta
Published on 10 August 2018, The Manila Times
A bright legal mind gives new meaning to client service

High-profile lawyer Nilo T. Divina always knew he wanted to join the legal profession. He was six years old when he decided that would be his life's calling.
"I just loved to talk, to argue, to discuss things," the managing partner of DivinaLaw recalls his much younger self. "I questioned things, not really being pilosopo (as a smart-aleck would). I just loved to ask about things."
Bemused by his eldest child's precocity, Divina's father told him: "You should be a lawyer!" words that stuck in the youngster's mind and made great sense. "From that time on, I wanted no other profession. That had always been my dream."
High achiever
Today, Divina, a veritable tornado of a fellow, who walks fast, talks fast and arguably thinks fast, has parlayed ambition, skill and commitment to service into DivinaLaw, one of the country's largest law firms – 65 lawyers and counting – with a handsome blue-chip client portfolio that any of his peers would lust after.
The roster includes leading names in banking and finance, manufacturing, retail, power, oil and gas, education, health care and insurance, realty and property and technology. "We have hundreds of clients," the managing partner is not shy about divulging.
Achieving seems to come naturally to this baby-faced abogado. At the University of Santo Tomas (UST), he headed the student council and was active in campus theater, starring in Paul Dumol's iconic Ang Paglilitis ni Mang Serapio. No, not as one of the two hectoring Tagapatanong, as you would expect, but as the hapless Mang Serapio, who reaches a brutal end. He then graduated with a Bachelor of Arts in Behavioral Science, cum laude from UST's Faculty of Arts and Letters. Entering the Faculty of Civil Law was a no-brainer, so was editing the UST Law Review and graduating with a Bachelor of Laws, magna cum laude and class valedictorian.
In 2009, while teaching commercial law at his alma mater, Divina was appointed the youngest dean of the country's oldest law school at 44. He continues to hold that post, and also teaches at the University of the Philippines College of Law. There are other prestigious positions in the profession which he has also occupied, but among the most useful was his stint as head of the legal department of Equitable PCI Bank which through a series of mergers evolved into Banco de Oro (BDO).
"That was a helpful and holistic experience," Divina reflects. "I loved my job, which helped me develop as a corporate lawyer. My teaching commercial law complemented this background, and thus, I've gained the reputation of being a specialist in commercial law."
Swim or sink
When Equitable PCI morphed into BDO, Divina felt it was time to carve his own path. So, with four of his trusted team members from the bank, he set up in 2006 his own firm in a 200-meter space in Pacific Star Building along Sen. Gil Puyat Avenue, Makati. He was around 40 then, a good age for new ventures.
"Of course, it was difficult in the beginning because we were not sure we would succeed," Divina recalls. "Our lawyers and their families depended on us. But fortunately, we had the resources to maintain the business for two to three years even if we didn't make money. We even provided employee benefits so people had peace of mind at least during that period.
"It was swim or sink with me."
Fortunately, Divina's fears were unfounded. BDO kicked off the momentum for the fledgling organization, giving it cases to handle. Intense networking and word of mouth also brought in the clients. "It (referring to the clients) was left and right in those first months," he beams.
Today, the firm's physical area sprawls over 2,000 square meters, and includes a chapel where Mass is celebrated daily at noon. Large windows and art works by Orlina, Cacnio, Luz and Acuña among others create a serene environment that offsets the critical and intense discussions that take place daily without pause.
DivinaLaw affiliates are found across the country in important hubs such as Cebu, Davao, Baguio and Legazpi among others. A representative office in Singapore now exists.
How did Divina learn to lead his own company? He had already picked up valuable experience, he says, as head of UST's student governing body and later, head of Equitable PCI legal department.
With the motto "Dynamic Lawyering" informing the the company's culture, Divina and his colleagues seek to create a safe and nurturing environment for clients. Their boss says: "We always find ways to make our clients happy. For us, nothing is impossible. Of course, we try to get results, always within the bounds of ethics and reason.
"We make our clients' problems our own. We make their concerns our own as if our lives depended on it." Divina even confesses, he says: "to sleepless nights when I think about how to come to a resolution that will give them peace of mind or get them out of the situation they are in."
Happy clients, he is convinced, make the best ambassadors and marketers for the firm. Hiring the best legal minds certainly helps as well.
Consistently recognized as one of the country's top 10 law schools, UST's law department produces young gems for DivinaLaw to consider hiring. Financially challenged as a student, Divina understands the dilemma of many students, who are hard up. "I didn't come from an affluent family or a privileged background. If my parents had been rich, perhaps, I would not have struggled as much to achieve the way I have. I might have been a different person.
"I am what I am because of my circumstances in life."
To make sure disadvantaged but deserving youth, keen to become lawyers, have easier access to that dream, Divina has been offering scholarships for the past nine years. He hires some of them, provided they survive rigorous vetting and share the values of the company, especially when it comes to client care.
Personal touch
Filipino lawyers are a class apart from their peers in the region, or even the world, says Divina. "May diskarte tayo [We have the ability to come out successful or able to accomplish a task].
"We are cheerful and we have a personal touch when we deal with people, with clients. Unlike the Western society, which is quite litiginous, we prefer to talk things over first. Pinag-usapan muna natin. [We talk things over first.]
"In fact, our judicial system has taken into consideration the Filipino psyche and institutionalized the need for arbitration and mediation before a case is brought to court. Talking over things is part of our process."
It always helps that a lawyer possesses some skills akin to a psychologist. (Perhaps, the reason why Divina majored in Behavioral Science in college.) He explains: "There is no one-stop solution. Each client is unique, and lawyers have to understand their psyche and be able to adjust to their personality."
Ironically, Divina claims not to be the best judge of character due to a belief "that I see everyone as good, and that no one is capable of evil." Such altruism, he adds, has served as both strength and weakness, with "some people taking advantage."
Says he: "I usually find it difficult to say 'no' to requests for help."
Last year's hazing of UST law student Horacio Castillo III, resulting in the indictment of 10 Aegis Juris fratmen, undoubtedly proved to be a trying time for Divina. The Castillo camp had accused him and other alumni of the fraternity of "negligence." As reported in the July 20 edition of The Varsitarian, UST's official student publication, the Department of Justice recently upheld its decision to clear Divina and other alumni of the charge.
When interviewed by the campus newspaper, the law dean was quoted saying he was "happy" about the developments, and that he wanted "peace and discernment" for all parties concerned in the incident.
Would he consider this episode a low point?
"In my profession, there is no such thing as a 'low point.' Everything is preparatory to better things," he says.
Visitors, who enter DivinaLaw's offices on the eighth floor of the Pacific Star Building, will be greeted by this inscription on the wall.
"Our clients' problems or challenges are our own. We push ourselves beyond the limit to give them peace of mind. We innovate, we think out of the box, we explore uncharted territory, we open doors and we find ways.
"For at DivinaLaw, client satisfaction is our burning passion."
Every day is a new opportunity for Nilo T. Divina to achieve just that.
* * *
Talking it over
There is much to commend Filipino lawyers and lawyering, says veteran attorney Nilo T. Divina.
Let him count the ways.
• Pinoys are cheerful and helpful.
• Pinoys have good disposition.
• Pinoys have the personal touch.
• Local society is not as litiginous as in the West. People prefer to talk things over before having to go to court.
• There is now more emphasis on mediation and arbitration.
---
Source: https://www.manilatimes.net/the-dynamo/428446/