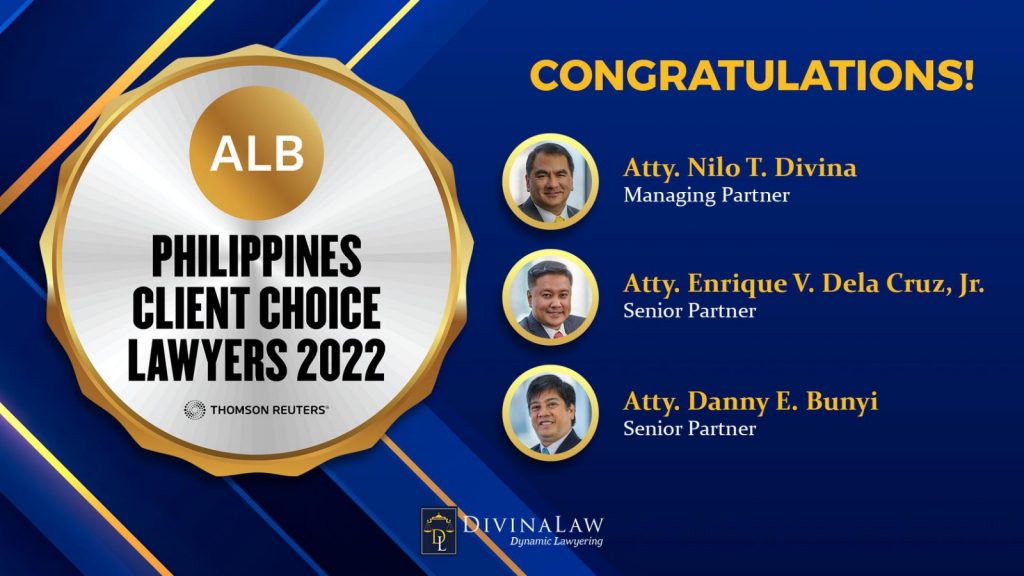 June 21, 2022
Three DivinaLaw lawyers made it in this year's list of 10 Philippines Client Choice Lawyers published by the Asian Legal Business (ALB) magazine, a leading legal publication owned by Thomson Reuters.
Managing Partner Atty. Nilo T. Divina and Senior Partner Atty. Danny E. Bunyi were in last year's inaugural Client Choice Lawyers list. They are joined this year by Senior Partner Atty. Enrique V. Dela Cruz, Jr..
These are the country's most highly recommended private practice lawyers, according to a survey conducted by ALB from March to April of this year. More than 100 clients in Asia and beyond responded to the survey. Lawyers were chosen based on the quantity and quality of recommendations sent by in-house counsel and business decision-makers.
Atty. Divina was described by one client as "knowledgeable and communicative," while another said: "Atty. Divina, together with his partners, possess the quality of being compassionate to their clients and always maintains good judgment."
Atty. Dela Cruz was described by his client as "the best lawyer among the many high-caliber lawyers that I have met. He is thorough but more importantly, he has a gift for perspective that allow him to dissect cases from different angles."
Atty. Bunyi was praised by a client for his ability to "dissect the project into parts where his and the firm's service will be optimized. I appreciate his recognizing the business impact of certain regulations and how he marries compliance with business, where one is more an enabler than a showstopper."
Read the full article here: https://bit.ly/3QFPuMK